Build your own dream guitar
Get excited – you're about to have the exclusive attention of a great teacher and luthier to guide you through the process of building your own beyond wonderful acoustic guitar! Because of normal job requirements, please call to discuss when you can schedule your six non-contiguous (mostly weekend) days. Here's how they'll go.

---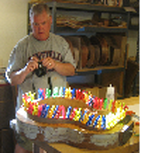 Day 1 - Sides & Top Learn about wood, and bending sides. Join your sides with heel & neck blocks. Learn about book match joining. Your pre- selected rosette is done, so you'll begin with gluing on the bracing and then attach kerfing (lining) to your sides.
---

Day 2 - Tuning the Wood This morning you'll learn about tap tuning, shape your bracing to the perfect tone, and then glue it all together for the best drum you've ever heard. While that's drying you learn about fretting the finger board. There's a real science to slotting the fingerboard, which you'll learn about but we'll let the experts slot your fingerboard. Not to be left out, you'll get to hammer in and dress your frets.

---

Day 3 -Channeling Binding Now that your drum is dry, you'll rout out the channel for the binding then attach the binding, set in the purfling and set it aside to dry.


---

Day 4 - The Neck It's on to finishing the roughed out neck so you can insert your truss rod, glue on your finger board and head plate. You'll carve & shape your neck to fit your hand
---

Day 5 -Let's Assemble a Guitar Attaching the bridge must be done carefully because correct positioning is essential for intonation. After some essential pointers from Norm, you can begin the all important sanding process to get your guitar's body ready for polishing. You'll apply your first coat of finish. Today is the day you see it finally all come together - you'll attach the neck.

---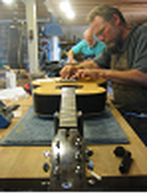 Day 6 - String It Up Today you'll finalize the sound by perfecting your nut & saddle and setting the neck. The excitement of stringing up your guitar and getting to play the first few notes is something you will never forget.

This will be an experience you'll experience over and over, every time you pick up and play your pride-and-joy.



---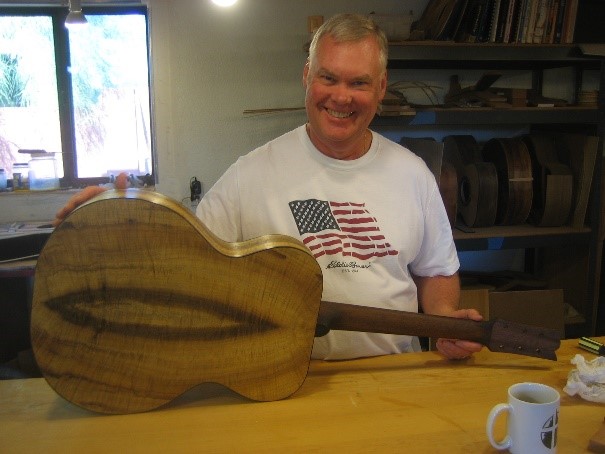 | | |
| --- | --- |
| Click here to download a pdf of our current brochure. | |
---
The sooner you sign up, the better.
Starting at $3,395

So you want to do it all? If you want to build the entire guitar from scratch, just ask.

---
---
Meet our graduates