Norman Haight ~ Master Luthier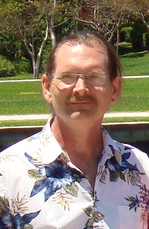 Norman used to build about three custom guitars a year. He also taught 6 guitar building classes a year. However, in 2010 all business dried up. In May of 2011, after 12 months of no new customers, Norman & his wife accepted a corporate job to co-manage senior living communities with Holiday Retirement Corporation. After heading up a community in Peoria, AZ, with a proud record of moving it from 68% to 93% occupancy in a year, they have moved back to Texas to work with friends Frank & Sherry Potter and open a brand new, community in McKinney.
Norman continues to build as his new job allows. While they were in Arizona, he rented shop space from his son, Mikki, in Glendale, AZ. Now that we are back in Texas, he is looking for new shop space. Besides working on custom build-to-order guitars, he is also working on his book, "Building the Big 00". Sharon still produces a newsletter with guitar maintenance tidbits and current news about them, usually on a quarter. If you would like to be added to that email list, which will also keep you apprised of when the 1 Week - 1 Guitar lutherie classes will resume, please go to the Contact Us page.
Back in the 1980's, Norm was playing guitar a lot, had a good job and was able to afford a really good guitar. He spent 3 years searching for a guitar he felt was worth $3,000 to $5,000 in sound quality and finish. He was disappointed in what he found and was about to give up when he learned there were books available on building guitars. He started to read. Norm likes to say he's learned the art of guitar making from many of the greatest guitar makers due to his extensive study. Anyway, one day his wife was startled to find wood soaking in the guest bathtub (which he never did again). That was the beginning of Norm's passion for building guitars.
He completed his first guitar, a classical he still plays today, in 1989. Now a seasoned master luthier, Norm crafts quality steel-string and classical nylon-string guitars along with all manner of strummed stringed instruments, complementing them with a variety of original designs and inlays. His guitars are the instrument-of-choice at recording studios; and are gaining well-deserved international recognition. He enjoys working with each customer to design and build his/her dream guitar. Whether it is just adding personalized inlay to your current guitar, or designing a guitar from the ground up to be everything you've ever dreamed of, Norman Haight is just the right luthier to get it done.

---
H
is custom guitars are really custom, with inlay, body size, neck shape and wood choices all tailored to make your dream of the perfect guitar come true. Each personalized guitar even has its own name:
Blue Palms, original owner Cary Miller
Dream Catcher, owner Barrett Tasky
The Butterfly, owner Zella Day
Tree of Life, original owner Gary Glava
Island Dreams, owner Adam E
N
orman has also built many
guitars on spec
. Here are some testimonies from other Haight Guitar owners.
Bill O – owner of an orange cocobolo classical & a walnut small jumbo
"I walked into the Haight Guitar shop, just browsing and with no intention of buying. After trying several of their instruments I picked up a guitar that caught my eye as being a piece of art work, strummed it a couple of times and fell in love. 15 minutes later I was the proud owner of my first Haight Guitar. A month later I purchased my second Haight Guitar, a classical, and a 'classic.' Each of my Haights is a superb instrument and an example of the best craftsmanship America has to offer."
CJ Garton – says his "new love is a Haight Guitar", he currently plays a model 5600 walnut small jumbo.
Eric Johnson - Desert Vista Recording Studios
Haight Guitars are known for their record-ability. Shelly Yakkus stated that the Haight Guitar, "sounded like a guitar is supposed to sound," when recording Billi Cioffi. Here you can hear what Eric Johnson said about his Haight Guitar.

Build one - give one away

N
orman is proud of his new program "Build One – Give One Away" designed to put handmade instruments into the hands of up-and-coming young musicians. Beginning 2011, whenever Norm finishes a custom guitar, he builds one for a young artist and gives it to them for free. To date, Zella Day was the first recipient of a guitar, the Butterfly, from this program; and Brittany Davis, winner of the
"Country Strong" national contest
, received her guitar, Stardust, in May 2012. Congratulations all!
---



Making a sound difference.
---